Print "info cards" - it is never TOO EARLY to start engaging people in your precinct ... ReOrg 2023 is right around the corner.
​Let us know if you would like us to mail you some "Info cards" or bumper stickers.
SC Revenue & Fiscal Affairs Office Jurisdictional Mapping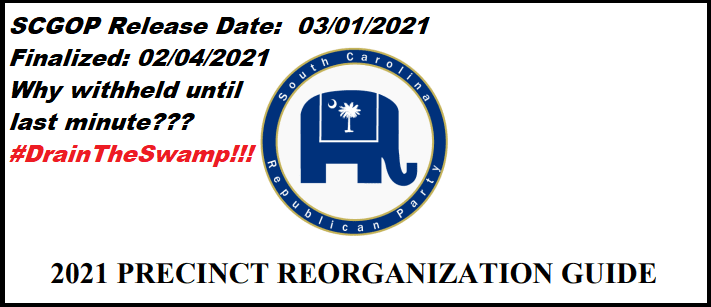 2021 Precinct ReOrg Guide
This is the "establishment" SCGOP Precinct ReOrg Package. There is a treasure trove of information here for "new" MAGA / America First Republicans - yet the SCGOP was withholding it until the last minute.
The package is postdated March 1st, 2021, however the document properties show it was finalized on February 4th, 2021. WHY WAS THE "ESTABLISHMENT" WITHHOLDING THIS INFORMATION?
If you are a DELEGATE, ALTERNATE, or a PRECINCT OFFICER ... You are ENTITLED to the CERTIFIED LIST OF DELEGATES and ALTERNATES to the County Convention for the ENTIRE COUNTY!!!
Make Your Own US Constitution Booklet
Instructions:

Print using both sides of five 8.5" x 11" sheets of paper.
Fold printout in half so you see page 1 and page 40.
Staple the binding using the page borders as guides.
Note: You may want to cut away some excess paper to help your stapler reach the binding.
Cut out the booklet using the page borders as guides.
Fold along the binding to complete the booklet.
Robert's Rules Of Order Cheat Sheet
PowerPoint Presentation (version 02/18/2021): Click HERE

July 3, 2021 GCGOP Election Integrity Report: Click HERE